Blog
5-25-2021
Asheville Attracts Digital Nomads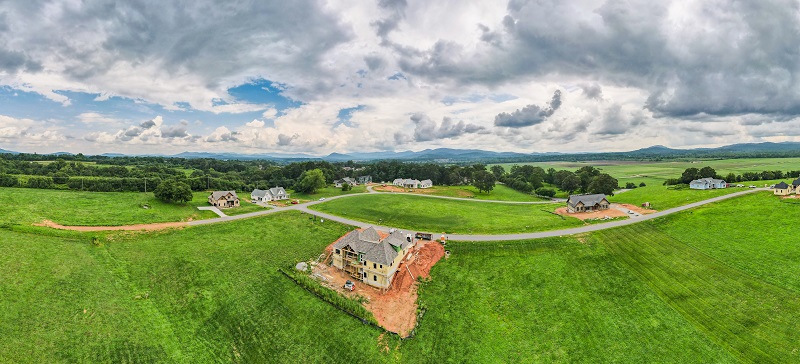 Asheville Attracts Digital Nomads
The Asheville area is known for its wide open green spaces, long range mountain views, a plethora of hiking, cycling, and camping in our Smoky Mountains, Blue Ridge Parkway or the Appalachian Trail. It may appear we are off the grid. Many come to the region to escape from modern day technologies, the hustle and bustle of city life and nostalgia for times gone by. Our mountains and lakes draw families where kids and pets embrace nature again, choosing the outdoor gamestation over videogames and where 'facetime' truly is face time.
For those who wish to relocate here, the need for modern conveniences has always been a balancing act.
Despite the pictures of wide open green spaces, our area does offer the modern conveniences of high speed internet and our airport now provides direct flights to many major cities. The Farm at Mills River provides access to Skyrunner high speed internet fiber optic internet service and is a short drive to the Asheville Regional Airport.
Does this ruin our way of life? Absolutely not.
The communities are just as rugged and wild as they have always been. Finding wifi at the top of a mountain peak, hiking along the AT or tubing down the French Broad are still non-digital domains as well as many of our lakes, parks and trails. However, for those wishing to enjoy the life of outdoor adventure within minutes of their front porch while still being able to Zoom to that all important meeting, can do so with ease and comfort. In fact, many often choose a virtual "office" background for those zoom meetings so they don't make those city dwellers jealous. ;-)
This is why the rise of the Digital Nomad has found Asheville to be so attractive.
This is why the rise of the Digital Nomad has found Asheville to be so attractive. The Digital Nomad, i.e., the remote worker, can now enjoy the outdoor mountain lifestyle instead of being forced to live in cramped urban apartments. From big cities to small towns, up until now, it's been mainly the "creative working class" that has been taking advantage of this glorious arrangement until the pandemic hit which then forced pretty much all professionals to work from their homes as well. Little did they know that they would learn to love it and now are faced with either returning to the office or begging their bosses to remain a remote employee.
What do Digital Nomads seek? What many of us seek:
Nature - Access to technology and COVID created a reverse trend - creatives are moving from the cities to the suburbs and places like Asheville. Digital nomads are finding themselves flocking to smaller, less busy towns where they can find more peace and quiet while acquiring the mental space needed to fulfill other life interests.
Family- Moving to the city usually meant sacrificing being close to family. Many digital nomads can now move closer to parents and grandparents and return to regular family visits, not just holiday visits
Lifestyle - City life often meant living in small spaces and/or lots of commuting time. Digital nomads can now spend more time with family and outdoors and less time commuting.
Whether you're a Digital Nomad or simply enjoying your life here in the mountains, let us remind you of what makes Asheville the perfect paradise to relocate, retire or simply revisit:
✔️Tons of outdoor activities and things to do in nature
✔️Perfect seasons and great weather
✔️Central to the eastern seaboard, 4 hours from the beach (perfect for beach weekends!)
✔️Close to several major cities
✔️Great arts + culture scene
✔️Beer City USA
If you choose to live at the Farm at Mills River, here are the wonderful amenities that will make your work/life balance achievable:
📶 High Speed Fiber Optic Internet
✈️Easy access to Asheville Regional Airport
🏡Easy Build Sites & Gentle Topography
🌅Long Range Views & Spectacular Sunsets
🚰City Utilities (Water/Sewer/Natural Gas)
😀Reasonable HOA Fees and Restrictions
🩺Quick Access to Top Rated Healthcare
🛒Convenient Location Near Shopping & Restaurants
🚸Highly Rated School District
🏞️Park, Pavilion, Pond, Trail System, Community Garden
🚴Wide gentle roads, perfect for riding bicycles and walking