Blog
6-21-2021
"Altitude Affects Attitude"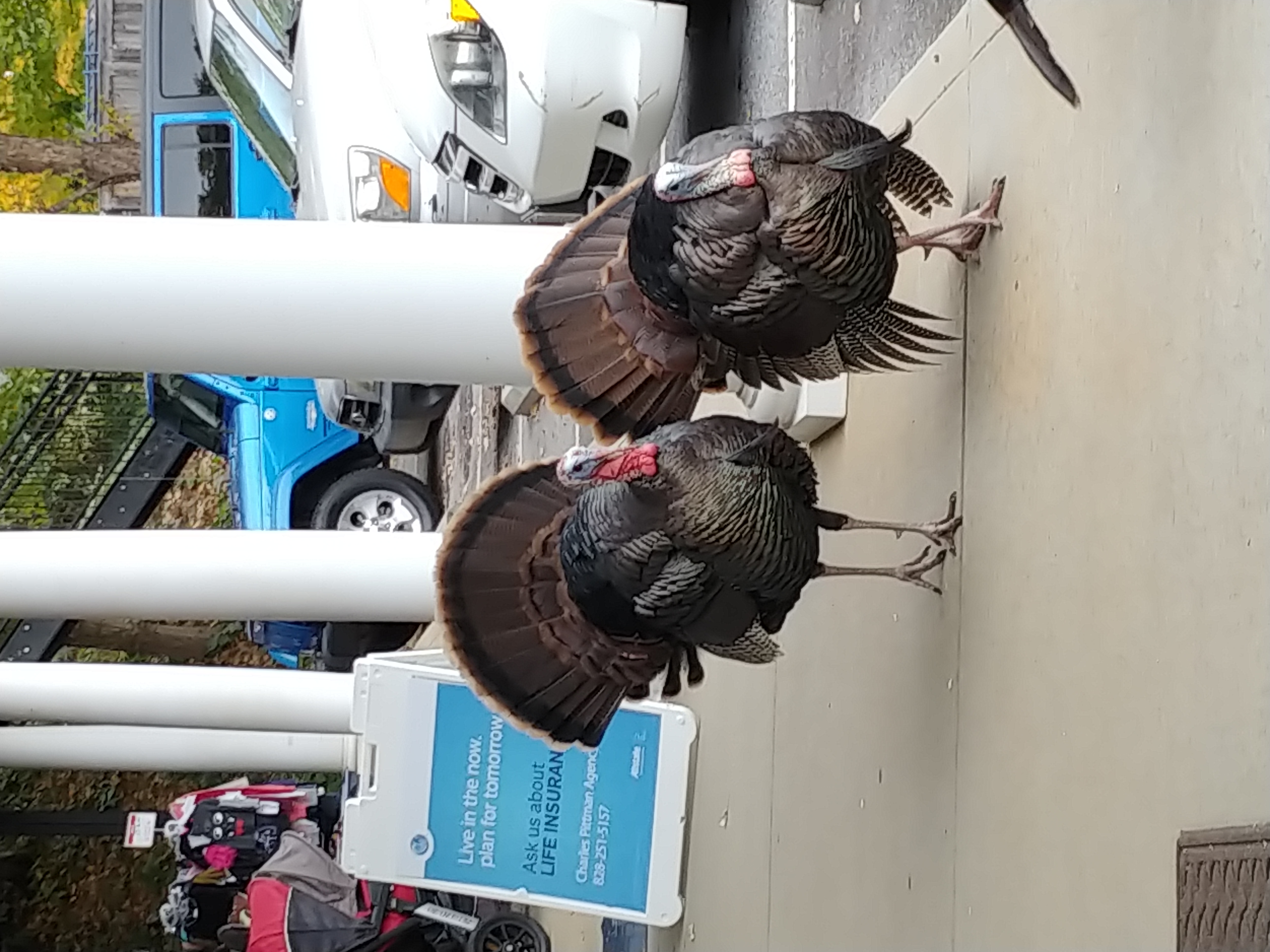 "Altitude Affects Attitude"
An often repeated phrase here in Asheville is "altitude affects attitude." Your interpretation is what you make of it. For some it refers to our other saying "Keep Asheville Weird" as we are known for our unique downtown culture and our fervent loyalty and support for independent restaurants and retail shops. Others interpret the saying as a way of changing one's mindset. Once you spend any time in the mountains, you're bound to feel freer and happier. Why? We are surrounded by nature's forest jungle, not the concrete jungle.
If you're thinking of relocating to the Asheville area mountains, you will find new neighbors of a different kind - from bugs to bears to new best friends. We've provided some tips to help you acclimate. Keep an open mind and an open heart and you'll soon agree, altitude definitely affects attitude.
New Furry Neighbors
When moving to the mountains, we often seek distance - a little extra space between fences, so to speak. When you move to our mountains, you can take your pick of the distance - whether you're interested in a half acre of space or several acres, you'll find all the space you need especially at the Farm at Mills River
However, you will also have some nosey neighbors that you can't control of the furry kind. Our mountains mean a whole new set of bugs and creatures. Don't be surprised to see bears wandering through your backyard or poking at your bird feeders. In addition, you might find new more "welcoming" creatures like nighttime raccoons and possums. You will find you need to protect your outdoor feeders from ambitious squirrels (and again, bears) and also watch your small pets if you live near wooded areas. Take that extra precaution when you go hiking, walking or biking. Residents have been known to come across wildlife much to their surprise. Hey, your uninvited guests just think you've put out the welcome mat when they smell that pet food on the porch. This is why you learn to secure your trash cans and pull in that pet food from the porch.
If you spend a lot of time outdoors, we also recommend checking yourself and your pets for ticks as you don't want to bed down with those pesky bugs.
We take a live and leave alone approach to our furry neighbors so if you need any advice, don't worry, you'll find a knowledgeable neighbor to help you. On the 'brighter' side, people especially enjoy the display of lightning bugs at dusk of the evening and are surprised to see so many deer foraging as well. Heck, we even have wild turkey that love to roam around the neighborhood and have even been seen "shopping" at our local stores (see picture below).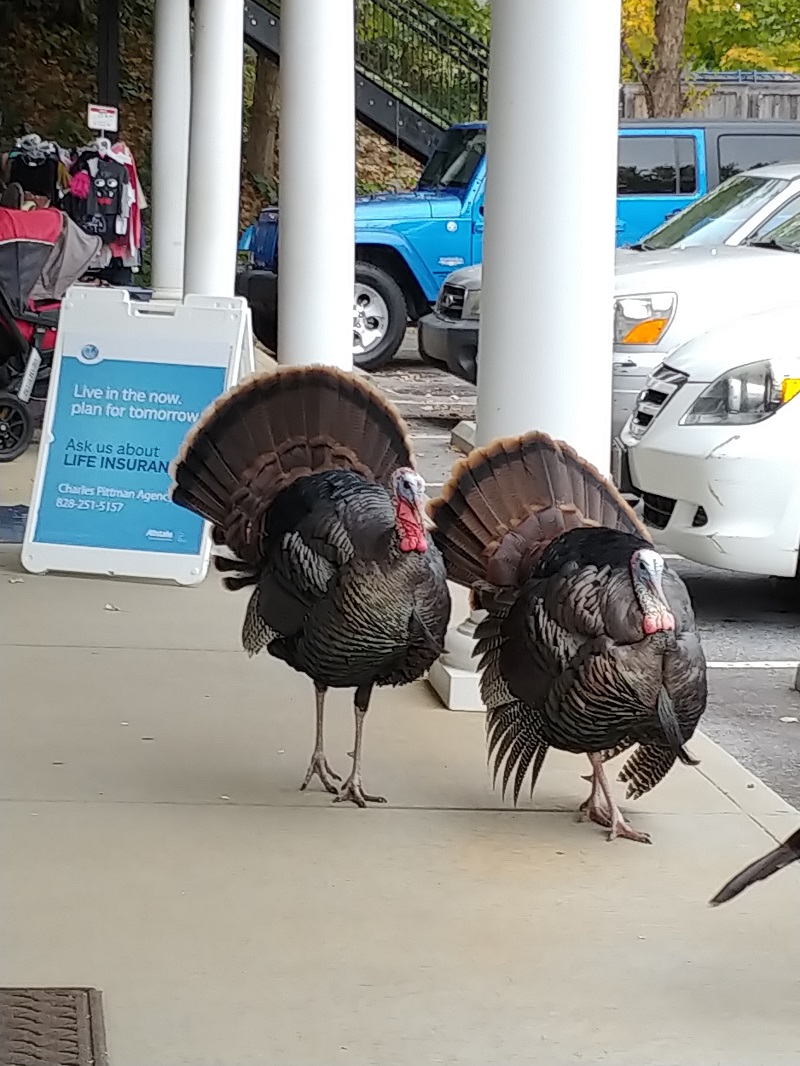 Who needs a greenhouse?
Who needs a greenhouse when you essentially are surrounded by it? Living in the mountains near lakes and streams with four full seasons, means we are surrounded by all kinds of natural green. For concrete dwellers it may mean a bit of an adjustment. Don't be surprised if you find you have allergies - these often go away as you get used to your new surroundings although you may need to seek temporary help during the pollen season. You don't see much poison ivy or poison oak in the city so you may want to acquaint yourself with these before you start pulling weeds in your new backyard or you'll get an itch that can be quite irritating. We encourage you to ask your landscaper or gardener to help you and get to know your flora and fauna and they can advise you on how to safely and sustainably remove it. You will be quite surprised at what you will find your backyard and will probably enjoy it. We even have a local business that will help you discover what is edible in your backyard (https://notastelikehome.org/) and how to cook it. Our area is also home to many pollinators. We encourage it and once you live here, you will, too!
Pictured below: Poison Ivy - Here's a quick tip to help you identify and stay away from poison ivy: Leaves of 3, let it be.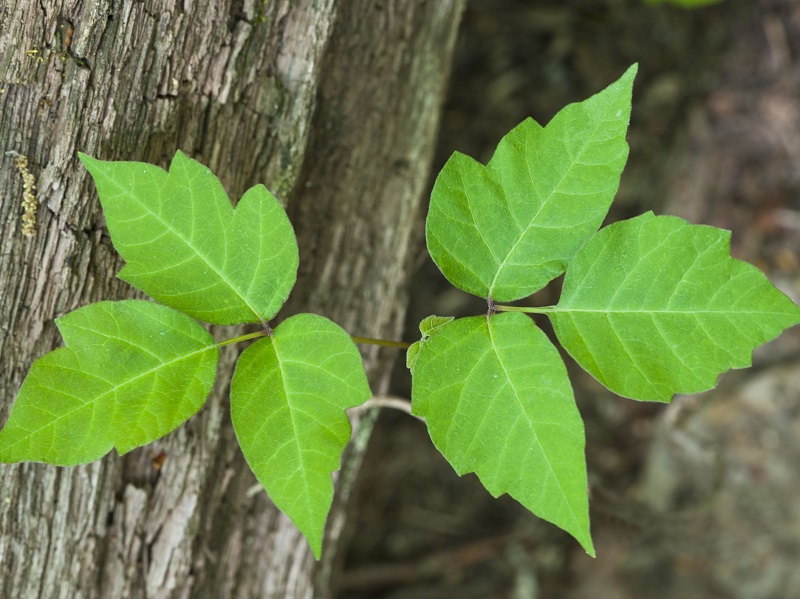 Weather Protection: Summer and Winter
As a four season location, we do experience all four seasons and that means a true winter and yes, we get a hot summer phase, . Temperatures do dip below freezing which can turn into ice and snow. Prepare yourself, your vehicles and your homes. There are basic checklists online for covering water pipes, putting chains on tires and of course, you will need that winter coat and boots if you plan on trekking out when it starts snowing. On the plus side, we have nearby snow tubing and skiing. And, there is nothing more beautiful than our white capped mountains and snow heavy trees when you're sitting inside by the fire.
If you travel frequently or Asheville is your vacation home, then be sure to arrange for proper home checks from one our local services. They will properly winterize or summerize your home, water plants and secure your home and catch a small situation before it becomes an expensive one. Nothing like getting a water bill that is triple the normal cost due to a small leak or busted pipe. If you visit only during the summer, check your boots before putting feet in cause critters and spiders like to make their home in there during the winter. Again, we recommend doing a complete check before settling down for the evening.
Commuting is different in the mountains
When you choose your new location, be sure to do a test drive to your work location. Keep in mind that it takes longer to drive our windy roads and yes, it will especially take longer during winter weather. In fact, we often recommend staying at home or having the proper vehicle for driving during such conditions. Also consider proximity and access to schools and healthcare. The Farm at Mills River is ideally situated close to both schools and healthcare and also the airport.
Plan for extra guest bedrooms
Of course, our last bit of advice for moving to the mountains is to definitely expect more visitors! You never know how many friends you have until you move to the mountains. If you have a guest bedroom, it's going to get occupied. Asheville and our surrounding area are exciting places to visit - filled with cultural and historical sites, unique places like the Biltmore Estate and grand waterfalls. Once you move here, your friends and family will want to visit as well so either plan for extra guest bedrooms or don't and hope they get the message 😉.