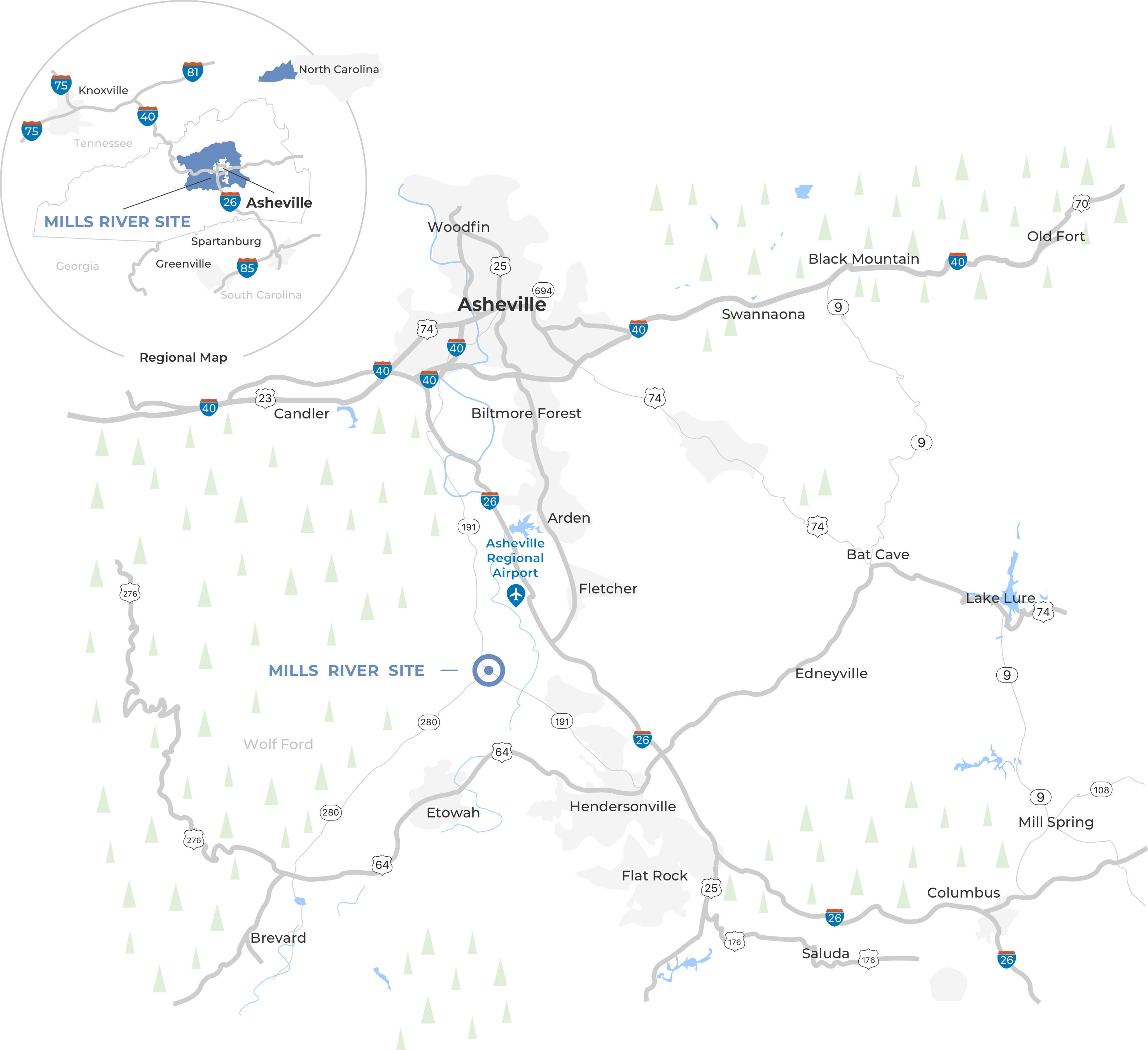 You can use this address to find us in your GPS: 455 Nesbitt Drive, Mills River, NC 28759.
While most places can't accommodate every need, The Farm at Mills River is genuinely well-suited for almost everyone. Nestled in the heart of the magnificent Blue Ridge Mountains of North Carolina, this outstanding development puts you within an easy drive of every worthwhile destination in this national treasure.
This is a region rich in peaks and valleys. You can either answer the call of the not-so-distant city lights or bask in the peaceful solitude of small-town escape. You can head to hidden waterfalls for the day or shop for art or antiques at nearby studios and galleries. And the local airport is only four miles away.
From your private piece of mountain paradise, you can reach interstate freeways quickly while feeling far from it all. Choose a different adventure each day — or just stay put to enjoy the peaceful beauty that surrounds you. Either way, you'll savor each moment as you settle into your new home. Learn about the surrounding communities:
Mills River
Nearby Mills River shines as a beacon of small-town blessings. While it retains a quaint and refreshing charm, it's not so small that you can't go shopping or find a superior meal. Mills River boasts a variety of cuisine from down-home country cooking to world-renowned signature chef creations.
Mills River is also home to the largest trail complex of the Pisgah Ranger District. It's impossible to pass through this little town without feeling awe for its natural beauty or falling in love with the kind-hearted locals and their endless hospitability.
Asheville
Less than a 20-mile drive away lies the largest city in Western North Carolina. The city of Asheville is booming, and as a result, it sports an array of unique events and attractions. Since appearing on many "Best of" lists in the past decade, the city draws an impressive stream of tourists and transplants.
Asheville seems to grow larger every day. Because of its five-star food experiences, its many breweries, its diverse nightlife, its unique history and its appreciation of music and art, the city offers something for every taste. When you want to revel in the excitement of a small mountain city, it will be waiting for you.
Hendersonville
A short 8.5-mile trip delivers you into the heart of Hendersonville. This blossoming area is reminiscent of what Asheville once was. Brimming with food, arts and culture, the area is also known for its farmers markets and its Apple Festival. It's a small city full of heart.
If you're craving a traditional mountain experience, Main Street Dances on Friday nights still bring out tourists and locals alike. These and other activities echo the sights and sounds of mountain heritage. The city captures a unique glimpse into the region's past, while keeping up with the times.
Western North Carolina
Western North Carolina is unlike anywhere else on Earth. Literally bursting with activities and attractions, you'll find something to suit everyone — from the hard-cast city dwellers to the outdoor adventure seekers, from urban artisans to peaceful nature lovers.
Here, you can find your way and lose yourself all in the same day. You can discover hidden delights. And then you can wake up to do it all over again. It's really no wonder Western North Carolina is being praised as the one of happiest places in the country to live.